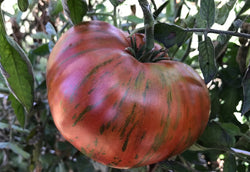 3 Live 4 - 7" inch Seedlings Chocolate Stripes Tomato Heirloom Rare beefsteak
Listing is for 3 Live seedlings 4 - 7 inches each in 3" pots plants shipped priority. 
A beautiful mahogany colored tomato with olive green stripes. Plant is high yielding with 3-6" fruits. A great choice for salads and sandwiches and adds great color! 

Indeterminate