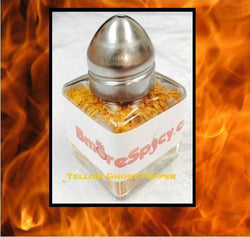 Yellow Ghost pepper bhut jolokia 1/2 ounce unique shaker 4 your table great gift
Very flavorful and fruity. The pepper is actually a mutation of the red ghost pepper but ripens to yellow instead. Extremely hot and beautiful color. A great enhancer and makes a great gift. 
.5 ounce shakers are great for spicing up your favorite foods; steaks, soups, fish, pasta, sauces, meat rubs & much more! The five alarm fire will be the talk of the table. 
Works as a prank as well :)