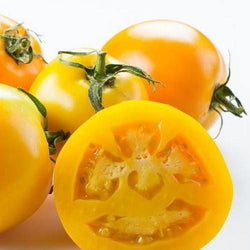 3 Live 3 - 6" inch Seedlings Golden Jubilee Yellow Tomato Rare Beautiful Color
Listing is for 3 Live seedlings 3 - 6 inches each in 3" pots plants shipped priority. 
A long-time favorite and perhaps the juiciest & meatiest of the light colored tomato varieties. Thick wall with mild flavor. Gold shaped golden-orange fruit similar to Sunray. 
This is an indeterminant so benefits from staking.