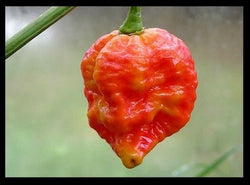 INFINITY super Hottest pepper 15 seeds Rare World Record Red 1,067,286 Scoville!
Exceptionally hot pepper which held the World Record in 2011 with 1,067,286 Scoville units (SHU)  until displaced by the Naga Viper at 1.3M SHU.
Tastes nice and fruity at first with a delayed effect. All of a sudden there is a burning in back of the
throat
 which makes it hard to even speak. Out of 300 people who tried a dish made from this pepper at a restaurant it took over 1 hour to finish including 10 minutes of hallucinating due to the endorphin rush.