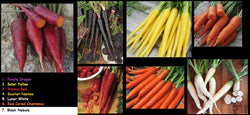 Carrot Seeds COMBO Nebula Atomic Red Cored Chantentay White Solar Yellow Nantes Purple Dragon
Combo of the most Bizarre carrots! beautiful array of rainbow colors from the rarest carrots! 
All come separately labeled
Atomic Red: Brilliant red beautiful carrot gets its hue from its high content of Lypocene which is a precursor to beta carotene credited for helping prevent several types of Cancer!  When cooked they turn an even more intense Red!! 
100 seeds
Red Cored Chantenay:
A bright, golden-orange all purpose carrot which is fun to grow. Especially good for juicing. A large stump-rooted carrot 5-7" long and 2" in diameter. Strong tops resist splitting and forking. Excellent for storage. Surface is smooth and free from roots or large eyes. Small core nearly the same as its rich orange flesh. 
300 seeds
Scarlet Nantes Orange:
A classic popular carrot. Has an old-time carrot flavor. The bright red-orange flesh has almost no core. The roots are about 7" inches with medium tops. Grows great on heavy soils.
Makes great juices!
Came originally from France.
100 seeds
Solar Yellow:
A beautiful yellow carrot grows 6 - 7". Crisp, sweet and juicy. Yellow carrots are slightly sweeter than orange carrots. Delicious both raw or cooked. Vibrant color a great addition to salads or stir-fry. 
63 days
100 seeds
Black Nebula:
From skin to core, one of the darkest and most attractive 
carrot varieties 
available. Delicious raw, steamed, or cooked and retains its dark color. Can be used as a dye. Incredibly high in anthocyanins. When left in garden it makes a beautiful white umbel tinged with a lavender color that can be used like a flower. Bees love the flowers; a great food for pollinators. 
100 seeds
Lunar White: 
Creamy white, nearly coreless carrot, with a unique flavor! 
Vigorous
 producer of 
delicious
 white roots. White carrots used to be grown in the Middle Ages but have now become very rare. 
100 seeds
Purple Dragon Carrot - 100 seeds
Very attractive smooth reddish-purple exterior makes a nice contrast with its orange interior especially on relish trays, platters, salads, and more. Puts a nice spin on the garden. Makes great carrot juice too. 7-9" inch long roots. Complex and sweet/spicy flavor.

Contains lots of

 

lycopine

 

as much as tomatoes! Lycopine is a powerful antioxidant with benefits such as sun protection, improved heart health, and lower risks of certain types of cancer.