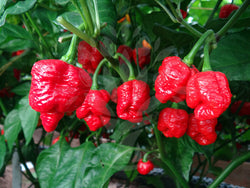 25 Seeds Trinidad Moruga Scorpion Worlds Hottest! World Record RARE EXTREME Hot!
According to the New Mexico State University Chile Institute, the Trinidad Scorpion Moruga Blend ranks as high as 2,009,231 SHU on the Scoville scale!
Competitor for World Record title as it is likely it will once again regain its title.
25 seeds