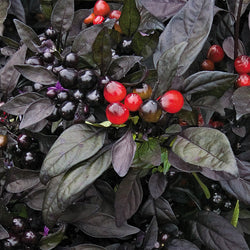 15 Seeds Black Pearl Heirloom Hot Pepper Ornamental & Edible Rare Black Leaves!!
This first ever completely black-leafed pepper plant is a great choice for planting in containers or garden. Foliage turns from greenish to a glossy black as it matures, aided by sun and heat. Very shiny beautiful & delicious black fruit matures to dark red. Very, very hot! 

Plant height is 14 to 18 inches high, spreading 12 to 16 inches. Can grow as a vegetable or 
an ornamental!